Tips:
• Make your mousse first: After melting the chocolate, cool over an ice bath to hustle it along.
• Once the mousse is setting up in the fridge, you can turn your attention toward the scallop dish, and pouring yourself a glass of wine.
• Hint: The lemon creme fraiche drizzle is delicious with the scallops and couscous, but your date won't know if you skip it.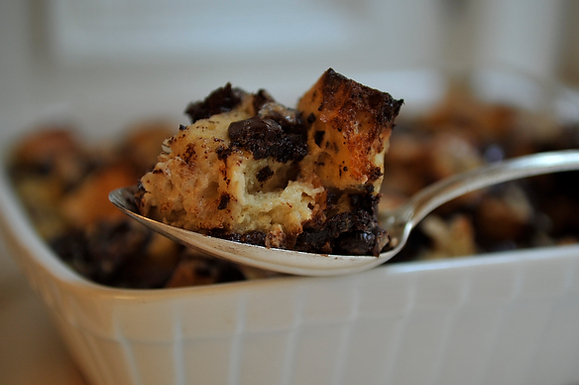 Tips:
• Be sure to buy a day-old baguette for the bread pudding (or use whatever stale crusty bread you have at home). In a pinch, cube fresh bread and toast it in the oven to dry it out.
• Get the bread soaking in its bourbony bath while you prep everything else, so you can pop it in the oven when you sit down to eat.
Tips:
• Be sure to double the mussels recipe for two, and have plenty of great crusty bread on hand for sopping up the broth.
• The sponge cups are way more forgiving than a souffle -- you can bake them before dinner and they won't deflate (you won't want to fuss with whipping egg whites after dinner, will you?)